Features
Technical Specification
Features
TG Series 3/3, 3/1
Low Frequency Online UPS
10kVA~100kVA
3 Phase input/ 1 Phase output
10kVA~800kVA
3 Phase input / 3 Phase output
Product
The TG series are Low Frequency UPS, which is commonly use in Industrial Power Supply. This Industrial UPS series is a Transformer Based UPS , which adopts Online Double Conversion technology to provide more comprehensive and complete protection for the equipment. Remote monitoring and network management through human-machine dialogue. The system has high system efficiency and complete protection functions. It adopts the world's most advanced DSP digital control technology. It breaks through the technical bottleneck of the UPS industry, replaces the traditional analog circuit with an advanced digital circuit system, and realizes the parallel redundancy function of multiple UPS. It is an extraordinary innovation of EPI. In the digital circuit mode, the high-speed microcontroller and programmable logic device have more perfect circuit control, parameter setting and operation management, and the self-test and self-detection functions are more powerful.
• Output transformer
• With optional 12 pulse rectifier
• Human-machine dialogue with the remote monitoring and network management
• Allowing 100% to balance working
• Intelligent battery management function to
• Protect the function is all ready
• Sound and light alarm
• A variety of voltage output
• Color optional
• Load protection ability
• Strong adaptability to the environment
• High battery optimize performance
• Network Management
• Energy saving environmental protection design
Application
Data Center, the network computer room, intelligent
precision equipment, the financial,
telecommunications, insurance, transport, taxation,
military, security, enegy, education, government,
manufacturing and other industries etc.
Features
• High reliable static switch
• Self diagnose and self protection
• Rechargeable battery intelligent management
• Strong English display interface
• Double transformation is on-line design
• Flexible weaver technology
• System with high efficiency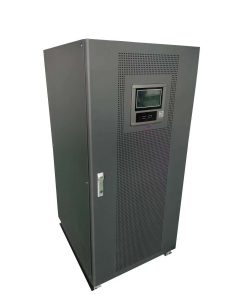 Technical Specification